Low Voltage Rescue & Cardiopulmonary Resuscitation
Perth · Melbourne · Darwin
ERGT Australia's Low Voltage Rescue & Cardiopulmonary Resuscitation (LVR & CPR) training course is designed for workers in the electrical industry who may be required to perform a rescue and CPR in response to an incident involving a live LV panel. On completion, participants will be able to confidently deal with a low voltage (LV) rescue situation where the casualty is unconscious and not breathing, and to perform CPR in line with the Australian Resuscitation Council (ARC) Guidelines.
The individuals attending the  course are typically experienced workers that may require this unit to maintain currency in the Electrical Service Industry (ESI) Network or another license from the electrical sector.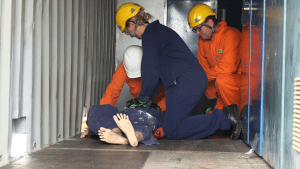 Course Availability
This course  is conducted at our safety training centres in Perth, Darwin and Melbourne. Please enquire online or call us on (08) 9417 6900 for more information.
Learning Outcomes
The expected learning outcomes for these Nationally Recognised Training units are:
UETDRRF004 Perform rescue from a live LV panel:
Prepare to perform rescue procedures from LV panel
Carry out rescue from live LV panel
Complete the LV panel rescue procedure
HLTAID009 Provide cardiopulmonary resuscitation
Respond to an emergency situation
Perform CPR procedures
Communicate details of the incident
Review the incident
Training Standard Pre-requisites
HLTAID009 Provide cardiopulmonary resuscitation (which is delivered as a part of this course) is a pre-requisite for UETDRRF004 Perform rescue from a live LV panel.
ERGT Desired Skills and Knowledge
This course is designed for trainees in fulltime or part time employment in the Electrical Supply Industry mainly in the energy and utility sector who have completed:
̵Company Induction Training
̵Internal or trade qualification in the Electrical Service Industry Workplace emergency response drills and exercises
̵Safe Work Management systems training
̵Workplace Risk assessment process training
Medical and Health Standards
A health questionnaire and declaration of fitness will be required at course registration. Please contact ERGT for any concerns regarding completion of practical training and assessment requirements and to discuss options for reasonable adjustments.
Additional Requirements
A Government issued photo identification and valid USI is required for course registration.
The skills and knowledge described in UETDRRF004 Perform rescue from a live LV panel may require a licence/registration to practice subject to regulations for undertaking electrical work. Practice in the workplace and during training is also subject to regulations directly related to Occupational Health and Safety, electricity/telecommunications/gas/water industry safety and compliance, environmental protection, anti-discrimination and training. Commonwealth, State/Territory or Local Government legislation and regulations may exist that limits the age of operating certain equipment.
Specific licensing/regulatory requirements relating to HLTAID009 Provide cardiopulmonary resuscitation, including requirements for refresher training should be obtained from the relevant national/state/territory Work Health and Safety Regulatory Authorities.
Structure & Assessment
This course is delivered through classroom presentations, group discussion, practical demonstrations and role play. Trainees will demonstrate their competence through written assessment and practical exercises.
Skills Maintenance
Employers are obliged to ensure the maintenance of rescue and resuscitation skills of their employees working with electricity by National and State regulations. The Code of Practice of Safe Work Australia and for electrical services in several states, such as Western Australia and Queensland, specify the revision of these skills every 12 months.
The Australian Resuscitation Council also recommends resuscitation skills are refreshed annually.
Please see the below documents for reference:
– Australian Resuscitation Council Guideline 10.1
– Managing Electrical Risks in the Workplace: Code of Practice
– Electrical Services Code of Practice Risk Management (Queensland)
– Code of Practice for Persons Working on or Near Energised Electrical Installations (Western Australia)
Authority / Regulator
Nationally Recognised Training is regulated by the Australian Skills Quality Authority (ASQA), which is the national regulator for Australia's vocational education and training sector.
†No GST applicable
*Price Includes GST
+Price includes GST / ^No GST applicable